10 galley tools worth the space


While the captain is more concerned with bits, bytes, amps and cables, I am keen on having all the comforts of "land life" in our floating home galley without material compromise. Given our "more is better" approach to solar and ability to generate/maintain significant power to fund inverter and AC systems, we realize the following may be an indulgent list for some and for others a helpful norm.  
However, open any drawer in Renaissances galley and you will see a split personality curation- one part minimalist and one part extravagant. While our battery bank is maxed out for our vessel, we continue to seek practical utensils that do double or triple duty that are energy efficient, stow-able, compact as possible and can be safely tucked away is no small feat.
After over 11 years of boating with many, many meals served with pride and cocktails crafted with care, we've rounded up the 10 galley tools we have crowned king of the cabinet.
Even though we love a hearty plate of spaghetti and meatballs after a cold day bashing around, the lighter alternative of "zoodles" (zucchini noodles) is a task made super simple by this spiralizer. Not relegated to only things in the squash family, its fantastic to use on potatoes, carrots, beets, etc followed by a rough chop for hash browns, veggie fritters, summer salad shreds and more. This little workhorse won a spot in our drawer due to its 2" x 2" compact size and ease of cleaning and use.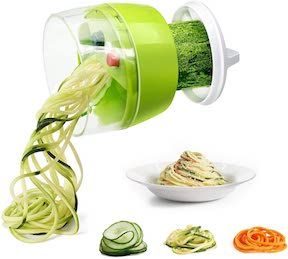 2. Compact peeler/grater/pizza cutter/zester
Im a sucker for efficiencies of space while not compromising on the usefulness. This little 5-in-one packs a full size vegetable peeler, fine grater (perfect for Romano on zoodles or citrus), zester for nutmeg or ginger and a pizza cutting wheel (which you could use a knife for, but this thing is so compact why would you!). I did ditch the bottle opener (we use wine key) but overall, this stackable, compact-able and multi-use set has earned its keep.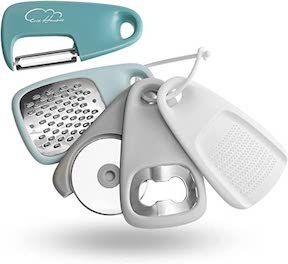 Magnetic anything on a boat may be controversial, but the tradeoffs of having a mostly dry sponge tucked into the corner of the sink with no adhesive to incubate bacteria and to keep our counters clutter free is a clear winner in my book. A single magnet installed under counter on the outside of the sink and its counterpart snaps into place on the inside. Like magic... no more damp sponges on the counter or soaking in the sink.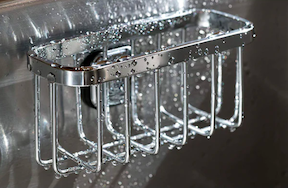 Not energy efficient nor multi-use, a sous vide is the last thing you think about in a boat galley.... but hear me out. We don't have space for an instant pot, pressure cooker or crock pot and our oven is unpredictable so cooking large or tough cuts of meat is a challenge. Enter the sous vide. This thermos size appliance can cook a 3 lb tri-tip in 70 minutes- combine that with a quick sear on the grill you have a perfect pairing for boat life. We use reusable silicon bags instead of vacuum pack bags and use our sink with a stopper for the water bath. With our current solar and power set-up we are only able sous vide on shore power, but my guess is the captain is already exploring ways around this limitation.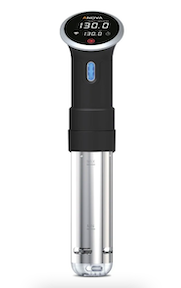 5. Good looking recessed dish drainer
This may be my most favorite (and used) thing in the galley and it took forever to find it and dial it in. Most boat sinks are smaller than standard house sinks and many are even smaller being split into two and finding a drainer to fit is an exercise in futility. I wanted a dish drainer that would sit in the bottom of the sink or at least be recessed and flush with counter, easy to clean and decent looking. I found this holy grail of drainers to be adjustable and almost perfect for the sink- I did have to grind the square plastic corners down 1/2cm to fit our rounded sink edges, but it fits perfectly and even on the most aggressive of tacks the last of the drying breakfast dishes sit secure. Bonus, its flat bottom makes it useful for draining freshly washed produce without need for a colander.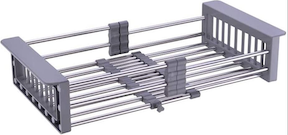 Remember when I said "all the comforts of land life"... I was largely referring to consistent, quality, quick espresso for the Captain in the mornings.  I am halfway convinced the reason we have lithiums and and oversized inverter is for this workhorse. (Read the Captains article about "Feeding our Power Hungry Sailboat" for proof!!). While it may consume loads of power at a time and create more non-organic trash than we would like, it is an indulgence we firmly make a place for in the galley. There is something oh-so civilized about drinking the perfect Lungo in an empty anchorage while the morning sun shines into the cockpit....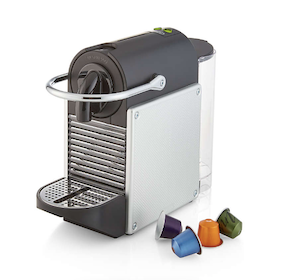 Many years ago I invested in 5 super high quality knives which I take good care to maintain and keep extremely sharp: 8" chefs knife, a serrated bread knife, 7" chopping knife, 5" all purpose and a 4" paring knife. Keeping with the theme of everything secure in its place, we choose to store them in the silverware drawer with these hard plastic sleeves which take up little to no extra space and protect soft fingers digging around the drawer from their ferociously sharp blades.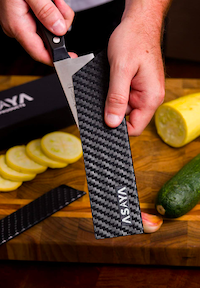 OK- I will admit, I bought my first Magic Bullet over a decade ago after watching a 2am infomercial and with the exception of ice.... this Yeti-sized blender truly does it all in a very compact form factor. When the first one gave out, I considered the alternatives but could not find another model or brand that was as useful in a great price point and size. When we are jonesing for blended soups, smoothies, sauces, hummus, salsa or spreads the mighty Magic Bullet answers the call. Luckily, I didn't have to stay awake until 2am to buy the replacement this time.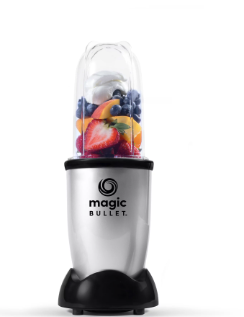 Have I mentioned that clutter drives me crazy or the thought of drilling holes in the beautiful wood walls makes me sad?  While I have seen some very creative and smart visible spice storage solutions on boats, thats just not how Renaissance rolls. Also, we don't use 1000 spices, we have about 12 we use on the regular that we consume quickly and need to be within reach. Enter this very space economizing spice tray- holds 6 spices per tray and they stack 2 high in our galley cabinets. I love that the form factor is square and wastes no space with round corners.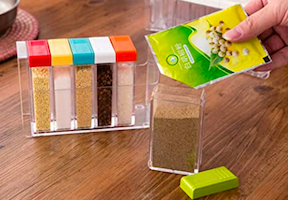 10. Waterford crystal tumblers
Some boaters may be horrified to learn that on our sailboat (frequently heeled over bashing upwind) is a glass boat. Meaning we drink our adult beverages out of real glass- not the faux glassware that promises "un-scratchable and unbreakable! Like the real thing!"... I just don't feel right drinking cognac or champagne from plastic. These tumblers are pretty heavy, tough, are appropriate for a variety of spirits and just frankly, after a day elbows deep in the bilge you would want your sundowner to look as aesthetically pleasing as possible too!