About us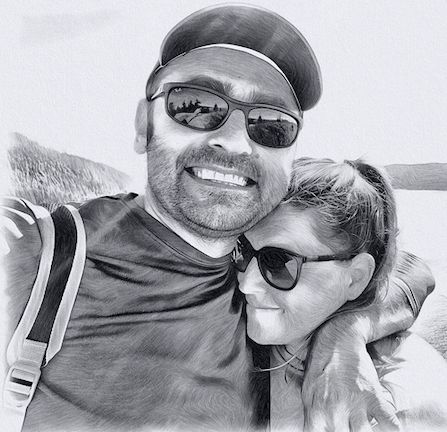 Hello there!
Thanks for being curious about us, our projects or the boat! We are Ilker & Kat, two adventerous souls that couldnt be more different, yet we found a shared love of living life afloat. We explore our tiny corner of the world in Renaissance, a 2006 Jeanneau 43DS while working full-time remotely.
Ilker, the Captain
Always thinking, constantly curious, never shies away from a boat upgrade or a long hike uphill.
Ilker leads software engineering teams and is privileged to work with people who are much smarter than he is. In his previous roles, he worked on building and operating parts of cloud and Internet infrastructures.
Being a geek at heart, and a former CCIE (Cisco Certified Internetwork Expert, which was the highest level of professional networking certification back in the day), he had run large scale Internet systems that served several hundred thousand users. While that was more than 2 decades ago now, he still gets super excited and eager to recreate similar systems on a 43ft boat! Thankfully, Admiral comes into the picture, making Renaissance ever grateful to her balancing act...
Ilker doesn't get to write software for fun anymore. So he fulfills his passion by working on a bunch of open source projects to relax from work, half of which happen to be about boats. You can find some of his projects on GitHub or read about them on this site.
Admiral Kat
At anytime you can find the admiral either 1) up to mischief 2) planning mischief.
Renaissance
Spry yet sturdy, light filled and spacious she is the perfect boat for two and our adventures. She sails well in light winds, charges through the waves and swell like a champ and feels capable in a blow. At 43' shes still easy to singlehand and provides plenty of space for us to liveaboard.
We looked at a lot of sailboats before finding our spacious, light filled, spry and sturdy girl.... probably over 250. We came close to making several offers but ultimately none felt right until we met Renaissance.
She came to us in like-new mint condition with a ton of great upgrades (Spectra Watermaker, brand new sails, full chain, new batteries, 320W solar panels, electric freshwater heads), outfitted by her previous owner for longer excursions, which sadly never happened. We purchased her in February 2021 and immediately started cruising.  We've done a bunch of upgrades on her you can read about here.
The boating
We previously were based in the San Francisco Bay and owned a 1999 Catalina 320 which we sailed and anchored out almost every weekend until we decided to venture out if the Golden Gate and headed south.
Over the course of 6 months, we harbor hopped down the coast on the weekends, leaving her while we went back to San Francisco to work during the weekdays. Sometimes the sails were short 6 hour hops and some were 40hour overnights. We made it to Ensenada in November 2019 planning to make the long 8 day trip to La Paz over the Christmas holidays and spending 6 months in the Sea of Cortez.
Ultimately, we decided not to continue further south as we had come to realize while our little pocket cruiser was perfect for few days off the grid, she would not be feasable for longer excursions. We made the bash back up and sailed back into the Bay under the Golden Gate in January 2020.
Then Covid hit. We decided to take advantage of full time remote work and had our Catalina trucked to Seattle. After spending the entire summer working "reboatly" and cruising the San Juan islands, we decided to make the Pacific Northwest our home and find a boat that could better accommodate exploring remote places and coastal cruising.

Affiliate Disclaimer
We are a participant in the Amazon Services LLC Associates Program, an affiliate advertising program designed to provide a means for sites to earn advertising fees by advertising and linking to Amazon.com. We may get commissions for purchases made through links on this site.
In practice, this means some of the links on this site are affiliate links. If these links send you to a site, that site knows the traffic came from us. If you buy something from them after following the link, we may make a small amount of money for what you've purchased. This doesn't cost you anything, just the operator of the site pays us a small commission for the traffic.